Picture of the month
2022 6
Order cards
Richter was in a permanent process of innovation. Newer and newer series were introduced in order to be able to present the customer a next box to buy. The process made it even more difficult to navigate around the series, when the boxes with metal parts were put onto the market, and conversion sets between the ones containing metal and the all-stone sets appeared.
To make things easier, postcards with the identification of the next correct supplement set were printed. The kind customer was only required to write the delivery address on the card.
I present two of these this month. The first one was included in set KK NF 5, and the correct supplement required is KK NF 5A, which is simply identified as 5A (Marburg). This is an identification from the later period, when the passwords were already used.On the card it is only stated: Richter, Rudolstadt, Thüringen. If the card got to Rudolstadt, there was no need for further specification, as everybody knew where Richter's factory was...The size of the card is 140 x 94 mm.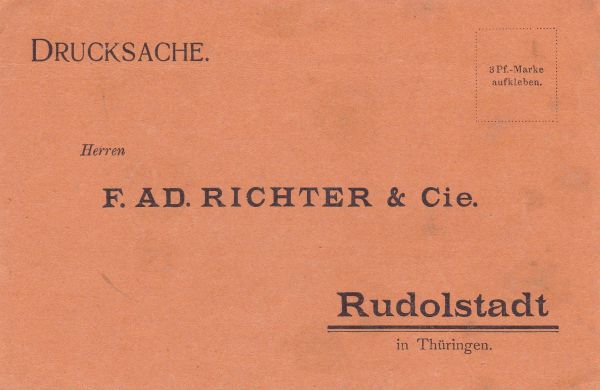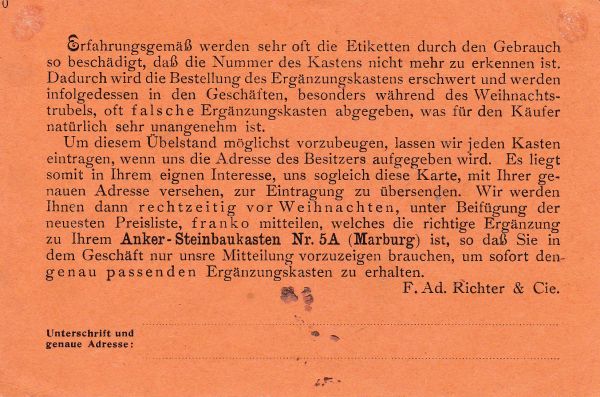 The second card comes from a much later period, as it has "Richters Anker-Steinbaukasten-Verein" (Richter's stone block builder association), an organization teaming up the fans building with the Richter blocks. Entry to the association was free of charge.
In contrast to the previous card, the address stated is the Vienna factory's address, Eitelbergergasse. There were a number of larger companies in Vienna, so a more precise identification was required. The set 26A could be ordered using this card. The high number in itself identified the supplement set GK NF 26A.
The size of the card is 140 x 94 mm.